Beneath the expansive, star-studded canopy of Oman's desert, lies a world of enchantment waiting to be discovered. Here, you can immerse yourself in the allure of camping amidst the desert's heart, and as the night descends, behold a celestial display of stars that will leave you in awe.
The Enigmatic Omani Desert
Wahiba Sands
Oman's most renowned desert, the Wahiba Sands, extends endlessly, with its colossal dunes resembling undulating waves on a sea of sand. This pristine wilderness offers a serene and surreal backdrop for your desert night escapade.
Desert Camping Experiences
Traditional Bedouin Tents
One of the most authentic ways to savor the desert night is by residing in a traditional Bedouin tent. These nomadic-style shelters provide both comfort and a culturally immersive experience.
Luxury Desert Retreats
For those in search of a more opulent desert adventure, Oman offers an array of upscale desert retreats. These establishments offer lavish amenities, gourmet dining, and expert-guided stargazing encounters beneath the crystalline desert skies.
Oman's Desert Sky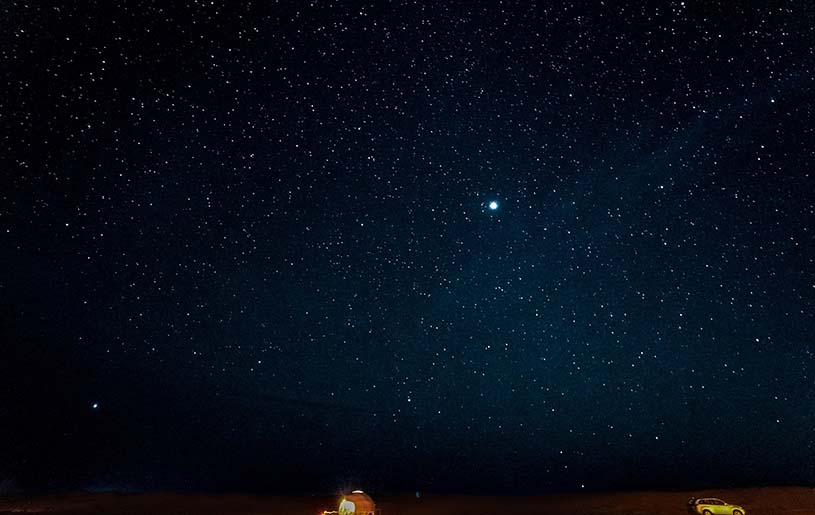 A Celestial Extravaganza
Oman's desert night sky unfurls as an awe-inspiring spectacle. With minimal light pollution, you are treated to a panorama of stars, planets, and constellations that often remain obscured in urban settings.
Guided Stargazing Adventures
Numerous desert camps offer guided stargazing expeditions, led by seasoned astronomers. They will introduce you to the marvels of the night sky, from identifying constellations to peering at distant galaxies through telescopes.
Practical Insights for Your Desert Sojourn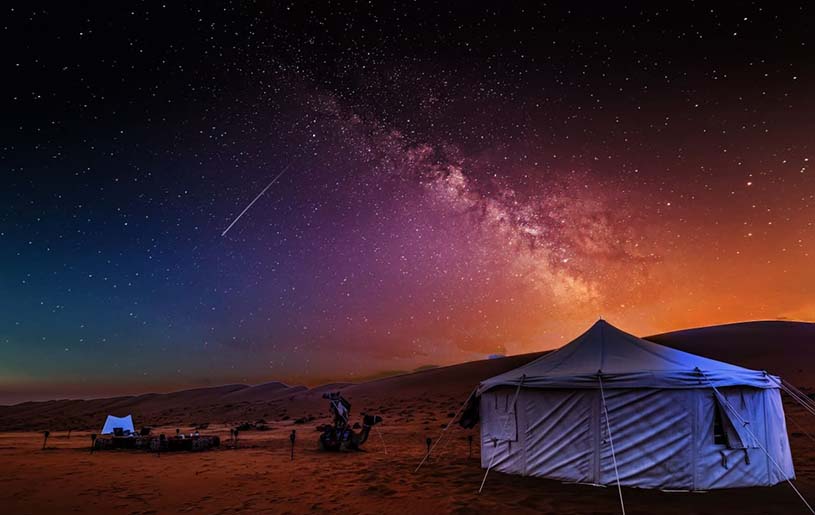 Desert Essentials
When venturing into the desert, it's essential to pack necessities such as sunscreen, an ample supply of water, comfortable attire, and sturdy footwear. The desert's temperatures can fluctuate dramatically, so be prepared for both scorching days and cooler nights.
Preserve the Environment
As you revel in the desert's splendor, maintain your role as a responsible traveler. Respect the fragile desert ecosystem by refraining from littering and safeguarding the pristine landscape for future generations.
Embrace Local Culture
Seize the opportunity to connect with local Bedouin communities. Immerse yourself in their traditional lifestyle, relish Omani cuisine, and gain profound insights into their profound connection with the desert.
Where to Experience Oman's Desert Night
Desert Nights Camp
Situated amidst the Wahiba Sands, Desert Nights Camp stands as a luxurious desert haven that presents a spectrum of desert experiences, including stargazing. They offer expert-guided tours and cozy accommodations within traditional-style desert tents.
1000 Nights Camp
Nestled in the Wahiba Sands, 1000 Nights Camp seamlessly blends authenticity with comfort. Their stargazing encounters are unmissable, and they provide a tranquil desert setting that encourages both relaxation and exploration.
Al Areesh Desert Camp
For a more immersive desert immersion within the Empty Quarter, Al Areesh Desert Camp offers Bedouin-style tents and stargazing opportunities. Their location in the heart of the desert offers a serene and remote retreat.
Oman's desert night casts a spell of tranquility and celestial beauty. Whether you opt for the authentic allure of a traditional Bedouin-style camping experience or the opulence of a desert sanctuary, you are poised for an unforgettable odyssey. As you gaze upon the star-kissed sky, you'll be reminded of the boundless expanse of the cosmos and your own place within its grand tapestry. Thus, prepare for a night in Oman's desert, and allow the enchantment of the desert and the brilliance of the stars to envelop you in an experience that transcends mere words.