My recent journey to Miami revolved around the enchanting world of kayaking and canoeing, offering a gateway to the city's hidden aquatic treasures. I embarked on three distinct water adventures, each presenting a unique blend of services, pros and cons, location details, discounts, ticket prices, recommendations, and, most importantly, my personal, heartfelt experiences. Join me as I plunge into the realm of paddling and share my authentic adventure.
Biscayne Bay Kayaking
Location: Biscayne Bay Kayaking is situated on Biscayne Bay, a breathtaking waterway that offers spectacular views of the Miami skyline and clear waters. It's not far from the city but just distant enough to provide an escape from the urban hustle.
Services:
Biscayne Bay kayaking promises a mesmerizing journey through scenic beauty and marine encounters. Numerous tour operators provide guided kayaking expeditions, complete with equipment rentals, life jackets, and seasoned guides.
Pros:
Scenic Splendor: Paddling across Biscayne Bay treats you to awe-inspiring views of Miami's skyline and its crystalline waters.
Marine Magic: Keep an eye out for dolphins, manatees, and a rich array of marine life during your voyage.
Guided Expertise: Knowledgeable guides enrich the experience with insights into the local ecosystem.
Cons:
Weather-Wary: Activities are weather-dependent, making advance checks crucial for smooth planning.
Physical Endeavor: Kayaking can prove physically demanding, especially in blustery conditions.
Discounts: Seek out bundled packages and discounts when booking through tour operators.
Ticket Prices: Guided kayak tours generally cost between $30 to $70 per person.
Recommendation: Biscayne Bay kayaking offers an enchanting communion with nature and an exploration of Miami's aquatic wonders. My rating stands at an impressive 4.9 out of 5 stars.
Oleta River State Park Canoeing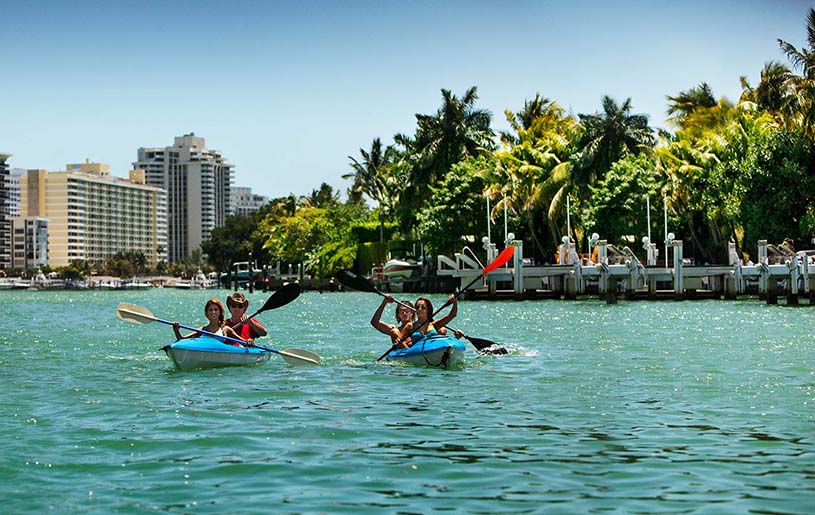 Location: Oleta River State Park is located in North Miami Beach and offers a serene canoeing experience through its peaceful mangrove forests and waterways. Equipment rentals are available within the park.
Services:
Oleta River State Park invites you to a serene canoeing experience amid its tranquil mangrove forests and waterways. Canoe rentals are conveniently available within the park.
Pros:
Natural Tranquility: Canoeing through mangrove forests promises a serene immersion in nature's embrace.
Wildlife Rendezvous: Birdwatching and occasional sightings of manatees and other wildlife add to the enchantment.
Rental Convenience: Canoes are easily accessible for rent right within the park.
Cons:
Self-Guided: Unlike kayaking tours, canoeing in the park is typically a self-guided endeavor, requiring navigation skills.
Minimal Amenities: The park provides only basic amenities, so it's advisable to pack essentials.
Discounts: State park entrance fees may apply, but canoe rentals are usually affordably priced.
Ticket Prices: Canoe rentals generally range from $15 to $30, with additional park entrance fees.
Recommendation: Oleta River State Park canoeing offers a tranquil haven for nature enthusiasts. I rate it at a commendable 4.7 out of 5 stars.
Moonlight Kayaking at Virginia Key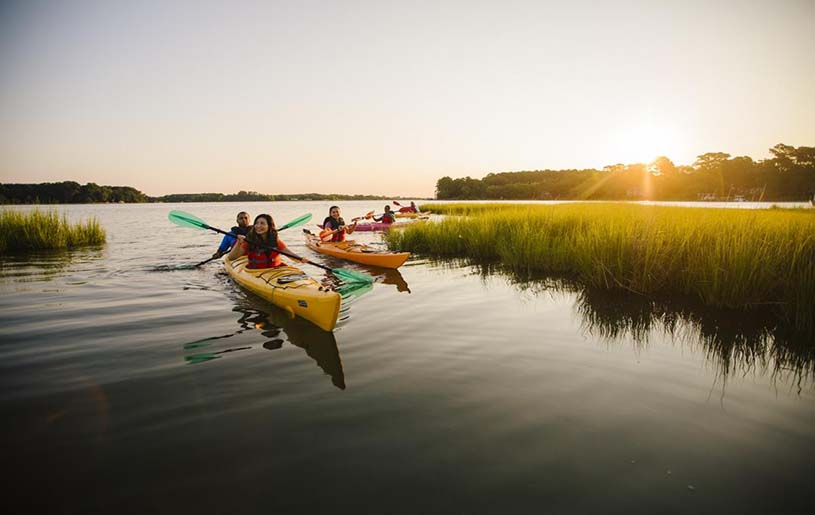 Location: Located at the Virginia Key Outdoor Center, this moonlight kayaking experience offers a unique nighttime adventure.
Services:
Moonlight kayaking ushers you into a magical realm, as the Virginia Key Outdoor Center hosts guided tours under the enchanting moonlight. The package includes all necessary equipment and expert guides.
Pros:
Ethereal Experience: Paddling beneath the moonlight's gentle glow creates a surreal atmosphere, perfect for couples or those seeking unique adventures.
Guided Enchantment: Skilled guides lead the way, ensuring safety and offering fascinating insights into the surroundings.
Serene Nocturne: The tranquil night waters provide a serene escape from the city's hustle and bustle.
Cons:
Limited Availability: Moonlight kayaking tours are often scheduled on specific nights or moon phases, necessitating advance planning.
Timing Challenges: Tours tend to start later in the evening, making it an ideal choice for night owls.
Discounts: Keep an eye out for special moonlight kayaking events and promotional offers.
Ticket Prices: Moonlight kayaking tours typically range from $50 to $80 per person.
Recommendation: Moonlight kayaking at Virginia Key offers a mesmerizing and unforgettable experience. I would rate it at an impressive 4.8 out of 5 stars.
Venturing into Miami's aquatic wonders through kayaking and canoeing is a splendid means to connect with nature and perceive the city from a fresh vantage. Whether you're gliding over the crystal-clear waters of Biscayne Bay, paddling through the serene Oleta River State Park, or embarking on a moonlit kayaking odyssey at Virginia Key, each adventure serves up a unique concoction of natural beauty and aquatic exploration, guaranteed to etch indelible memories in your heart.