I found myself in the heart of Denver, Colorado, a city renowned for its breathtaking Rocky Mountain backdrop and burgeoning food culture. In this gastronomic journey, I embarked on a quest to unearth Denver's most charming coffee houses and patisseries, guided by the insights of knowledgeable locals who know the city's hidden treasures like the back of their hand.
Pigtrain Coffee Company
Location: Union Station, Denver
My journey into Denver's coffee culture began with a visit to Pigtrain Coffee Company, a charming establishment tucked away within the bustling Union Station. This delightful find came highly recommended by a friendly local, and from the moment I entered, I was captivated by its unique charm.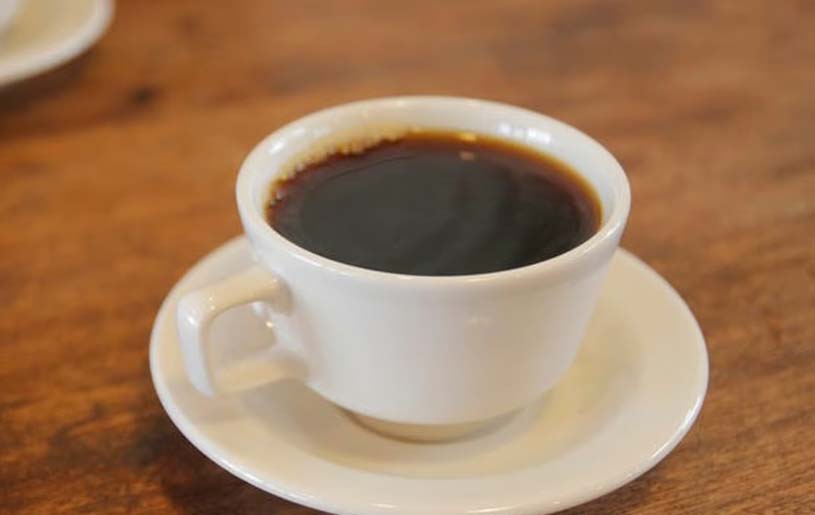 Pros:
Craft Coffee Excellence: Pigtrain Coffee Company sets itself apart with a remarkable selection of craft coffee options. Their offerings include an impressive array of espresso-based beverages and pour-over selections. I opted for a cappuccino, and it was nothing short of a masterpiece. The rich, robust flavors of the espresso were expertly balanced with velvety microfoam, creating a delightful and aromatic brew. It was evident that the baristas took immense pride in their craft.
Urban Oasis: The location within Union Station adds a distinctive and appealing dimension to the Pigtrain experience. It serves as the perfect respite for both travelers on the go and locals looking for a dose of vibrant urban energy. The station's bustling atmosphere provides a unique backdrop, allowing you to soak in the sights and sounds of Denver's transportation hub while savoring your coffee. Whether you choose to people-watch or simply unwind, Pigtrain offers an inviting space to do so.
Passionate Baristas: The passion for coffee at Pigtrain is palpable in the enthusiasm and expertise of its baristas. I was pleasantly surprised by their willingness to engage in meaningful discussions about coffee beans, brewing methods, and flavor profiles. Their recommendations added a personalized touch to my coffee experience, making it all the more enjoyable.
Cons:
Limited Pastry Selection: While Pigtrain Coffee Company shines brightly in the realm of coffee, I couldn't help but feel that the selection of pastries was somewhat limited. Given the quality of their coffee, I had anticipated a more extensive assortment of pastries and baked goods to complement the exceptional brews.
Flavor Rating: 4.5/5
Pigtrain Coffee Company is a stylish coffee haven nestled within the heart of Denver's Union Station. It offers an exceptional coffee experience with a diverse selection of craft coffee options. The vibrant urban setting and passionate baristas create a welcoming atmosphere for coffee aficionados and travelers alike. While the pastry selection may be wanting, the quality of the coffee more than compensates for this minor shortcoming.
Amethyst Coffee Company
Location: Capitol Hill, Denver
My exploration of Denver's coffee culture led me to the enchanting Capitol Hill neighborhood, where I serendipitously stumbled upon Amethyst Coffee Company. This inviting cafe, with its cozy and artistic ambiance, immediately drew me inside.
Pros:
Artisanal Coffee Excellence: Amethyst Coffee Company stands out for its unwavering commitment to artisanal coffee, and this commitment shines through in every meticulously prepared cup. The brew I selected was a testament to their dedication to coffee excellence. Each pour-over is a labor of love, resulting in a cup that showcases the nuanced flavors of carefully selected beans.
Charming Atmosphere: The cafe's ambiance strikes a harmonious balance between modern design and rustic charm. It creates an inviting oasis for solo travelers in search of a quiet retreat or anyone seeking respite from the bustling city. The cozy seating arrangements, paired with artistic touches, make for an intimate and relaxing coffee experience.
Passionate Baristas: One of the highlights of my visit to Amethyst Coffee Company was the passion exuded by the baristas. They are true coffee aficionados who are not only skilled at their craft but also eager to engage in meaningful discussions about coffee. From sharing insights about bean origins to discussing various brewing methods, their enthusiasm added depth and character to my coffee journey.
Cons:
Limited Seating: While Amethyst Coffee Company excels in coffee craftsmanship and ambiance, the limited seating can be a downside during peak hours. Finding an available spot may prove to be a bit challenging, and I recommend arriving early to secure a comfortable seat.
Flavor Rating: 4.7/5
Amethyst Coffee Company is a hidden gem in Denver's Capitol Hill neighborhood, offering an exceptional coffee experience. Their commitment to artisanal coffee shines through in every pour-over, making it a haven for coffee aficionados. The cafe's charming atmosphere and passionate baristas contribute to a delightful and enriching coffee journey. While the limited seating can be a minor inconvenience during busy hours, the overall experience is nothing short of remarkable. My visit to Amethyst Coffee Company was a delightful foray into Denver's coffee culture, leaving me eager to explore more of the city's coffee treasures.
Voodoo Doughnut
Location: LoDo (Lower Downtown), Denver
No culinary journey would be complete without indulging in some delectable sweets, and Voodoo Doughnut stands as Denver's answer to a doughnut lover's paradise. Nestled in the heart of LoDo, this whimsical doughnut shop is renowned for its eclectic creations.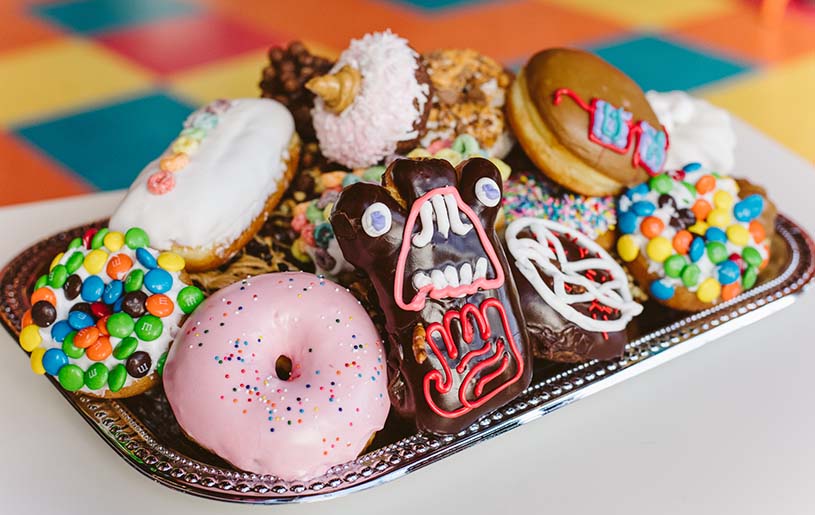 Pros:
Inventive Doughnut Flavors: Voodoo Doughnut lives up to its reputation with a plethora of inventive and mouthwatering doughnut flavors. From the iconic Voodoo Doll to the Captain My Captain adorned with vanilla frosting and Captain Crunch cereal, the choices are both imaginative and delicious. Each doughnut is a work of art, and the flavors are nothing short of delightful surprises.
Vibrant and Quirky Ambiance: Stepping into Voodoo Doughnut feels like entering a playful wonderland of sugary delights. The vibrant and quirky ambiance adds to the overall experience, making it a fun and delightful stop for families, friends, or anyone with a sweet tooth. The shop's colorful decor and whimsical doughnut-themed decor contribute to its unique charm.
Efficient Service: Despite its immense popularity, Voodoo Doughnut manages to provide efficient service even during peak hours. You won't have to wait too long to get your hands on these delightful treats, ensuring that your doughnut cravings are promptly satisfied.
Cons:
Long Lines: The only minor drawback is the shop's immense popularity, which can lead to long lines, particularly on weekends. However, I can confidently say that the wait is undeniably worthwhile. The unique and scrumptious doughnuts at Voodoo Doughnut make the wait an integral part of the experience.
Flavor Rating: 4.6/5
Voodoo Doughnut in LoDo is a whimsical and delightful destination for doughnut enthusiasts. With its inventive doughnut flavors, playful ambiance, and efficient service, it lives up to its reputation as a doughnut lover's paradise. While the lines may be long, the flavors and experience make every moment worth it. A visit to Voodoo Doughnut is a sweet and memorable stop on any culinary journey through Denver.
Local Recommendations
As much as I relished my visits to Pigtrain Coffee Company, Amethyst Coffee Company, and Voodoo Doughnut, Denver's culinary scene is an ever-evolving tapestry of flavors waiting to be explored.
Corvus Coffee Roasters
Location: South Broadway, Denver
My journey through Denver's coffee culture led me to Corvus Coffee Roasters, a celebrated gem in the heart of South Broadway. This coffee haven is renowned for its unwavering commitment to sourcing high-quality beans and expertly roasting them to perfection. As I stepped inside, I was immediately captivated by the cozy ambiance and the warm welcome from the friendly staff.
Pros:
Premium Coffee Sourcing: Corvus Coffee Roasters takes its coffee sourcing seriously, and this dedication shines through in every cup. They go to great lengths to select the finest beans, ensuring that each sip is a revelation of flavor. From single-origin delights to carefully crafted blends, their offerings cater to a wide range of coffee preferences.
Expert Roasting: The hallmark of Corvus Coffee Roasters is their expertise in roasting. It's evident that they view coffee roasting as an art form. The beans are roasted to perfection, capturing the unique characteristics of each origin. The result is a cup of coffee that is both nuanced and exceptional.
Inviting Ambiance: The ambiance at Corvus is inviting and conducive to a relaxed coffee experience. It's a place where you can savor your coffee, engage in meaningful conversations, or simply unwind. The cozy seating arrangements and warm lighting create an atmosphere that encourages you to linger and savor the moment.
Cons:
Limited Space: One minor drawback is the limited seating, which may pose a challenge during busy hours. However, it also adds to the cozy and intimate vibe of the cafe.
Duchess Doughnut
Location: South Broadway, Denver
Denver's culinary landscape is dotted with delightful surprises, and Duchess Doughnut is undoubtedly one of them. Situated on South Broadway, this hidden gem caters to the cravings of doughnut aficionados, offering a rotating menu of artisanal doughnuts that will tantalize your taste buds. Whether you're a fan of timeless classics or eager to explore inventive creations, Duchess Doughnut promises a delightful doughnut experience that is nothing short of magical.
Pros:
Artisanal Doughnuts: Duchess Doughnut takes the art of doughnut-making to new heights. Each doughnut is a masterpiece, lovingly crafted with attention to detail and a passion for flavors. The menu is a playground of creativity, featuring both classic favorites and seasonal delights. Whether you're craving a traditional glazed doughnut or a unique flavor combination, Duchess Doughnut has something to satisfy every sweet tooth.
Seasonal Surprises: One of the highlights of Duchess Doughnut is their commitment to seasonal flavors. With a rotating menu, you can always expect fresh and exciting offerings that reflect the best of each season. This dedication to using seasonal ingredients ensures that every visit is a unique and delightful experience.
Friendly Atmosphere: The ambiance at Duchess Doughnut is welcoming and unpretentious. It's the kind of place where you can drop by for a quick treat or linger with friends over a cup of coffee and a plate of doughnuts. The staff is friendly and eager to help you explore their diverse doughnut selection.
Cons:
Limited Availability: Given the popularity of Duchess Doughnut and their commitment to freshness, there may be times when your favorite doughnut runs out. It's advisable to arrive early to ensure you get your pick of the delectable offerings.
Little Owl Coffee
Location: Denver Central Market, Denver
Denver Central Market is a bustling hub of culinary delights, and nestled within it, you'll find Little Owl Coffee—a coffee shop with a unique character that's sure to captivate your senses. If you're in search of a coffee experience that goes beyond the ordinary, Little Owl Coffee beckons with its cozy, communal atmosphere and a diverse coffee menu that caters to the most discerning of coffee enthusiasts.
Pros:
Charming Atmosphere: Little Owl Coffee exudes charm from the moment you step in. The communal seating arrangements invite you to connect with fellow coffee lovers or simply find a cozy corner to savor your brew in solitude. The ambiance strikes a balance between modern chic and rustic warmth, creating a welcoming space to unwind or catch up with friends.
Diverse Coffee Menu: The heart and soul of any great coffee shop is its coffee menu, and Little Owl Coffee certainly delivers in this regard. Their menu is a treasure trove of coffee delights, featuring a wide range of espresso-based beverages, pour-over options, and specialty brews. Whether you prefer the bold intensity of a cortado or the smooth richness of a cold brew, you'll find a coffee that suits your taste.
Central Market Vibe: Being located within Denver Central Market adds to the overall appeal. After enjoying your coffee, you can explore the market's culinary offerings, from artisanal cheeses to freshly baked bread. It's a food lover's paradise, and Little Owl Coffee is the perfect starting point for your culinary adventure.
Cons:
Limited Seating: Like many popular coffee shops, Little Owl Coffee can get quite busy, especially during peak hours. The limited seating might require some patience or flexibility in finding the perfect spot to enjoy your coffee.
Denver's culinary landscape effortlessly weaves together a rich tapestry of coffee culture and delectable sweet indulgences. Whether you're savoring artisanal coffee at Pigtrain Coffee Company, immersing yourself in the inviting atmosphere of Amethyst Coffee Company, or treating yourself to sugary delights at Voodoo Doughnut, the city's offerings promise a memorable culinary journey. With local recommendations lighting the path for your culinary exploration, Denver's dynamic food scene is sure to captivate your taste buds and leave an indelible mark on your epicurean adventure.