Embarking on a road trip around Denver presents a unique opportunity to uncover the mesmerizing beauty of the nearby landscapes. I'll share my in-depth experiences at three personally explored destinations, offering heartfelt insights and practical tips.
Destinations Explored:
Rocky Mountain National Park: A Majestic Alpine Retreat
Located to the northwest of Denver, Rocky Mountain National Park spans the majestic Continental Divide, offering visitors access to some of the most stunning alpine landscapes in the United States.
To reach this natural wonder, you can opt for a scenic drive by taking I-70 W and US-36 W from downtown Denver. The journey takes approximately 1.5 hours and treats you to picturesque views along the way.
For avid nature enthusiasts and frequent visitors, annual park passes are available, providing substantial savings and unlimited access to the park's beauty throughout the year.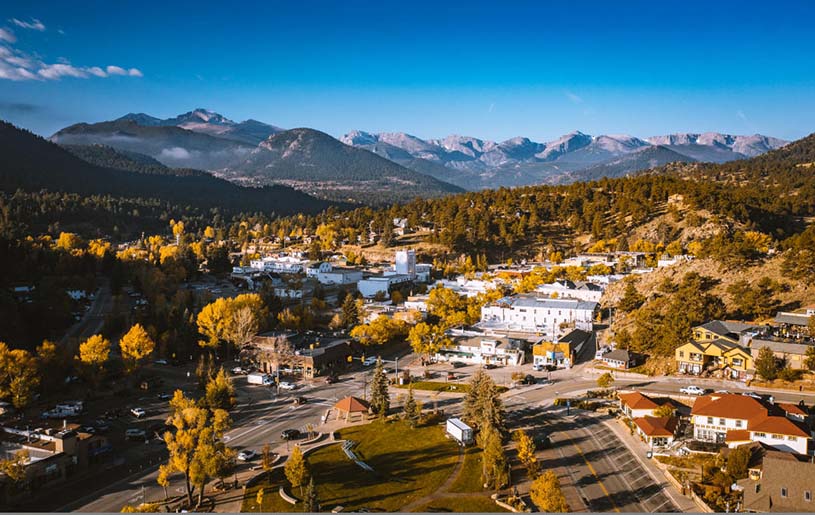 If you're planning a shorter visit, a daily entrance fee per vehicle is $25, granting you access to the park for seven consecutive days, allowing you to explore its wonders at your own pace.
With a perfect rating of 5 out of 5, Rocky Mountain National Park is a must-visit for anyone who appreciates the beauty of nature and enjoys hiking and outdoor adventures.
My journey through Rocky Mountain National Park was nothing short of awe-inspiring. Towering peaks, serene alpine lakes, and a diverse range of wildlife created an atmosphere of tranquility and wonder. The highlight of my visit was the breathtaking Trail Ridge Road, which takes you to an elevation of over 12,000 feet and offers panoramic views that are nothing short of spectacular. I wholeheartedly recommend hiking the Bear Lake Trail to witness the pristine beauty of the alpine environment up close.
Booking Platform:
For your convenience, park passes can be easily acquired online through the official National Park Service website, allowing you to plan your visit and secure your access to this natural wonder with ease.
Garden of the Gods: Nature's Sculpted Masterpiece
Located in Colorado Springs, Garden of the Gods is approximately a 1.5-hour drive to the south of Denver, making it a convenient day trip destination for those seeking natural wonders.
To reach this geological marvel, you can take the picturesque I-25 S route, which leads you through the stunning Front Range, offering captivating views along the way.
One of the remarkable aspects of Garden of the Gods is that admission to the park is entirely free, and parking is also complimentary, making it an exceptionally budget-friendly option for visitors of all backgrounds.
As mentioned, there are no entrance fees, ensuring that anyone can explore this extraordinary natural wonder without any financial barrier.
With a highly commendable rating of 4.8 out of 5, Garden of the Gods is an ideal destination for a day trip filled with awe-inspiring rock formations and a profound connection with nature.
My visit to Garden of the Gods left me in awe of the sculpting wonders of nature. The towering red rock formations set against the backdrop of the iconic Pikes Peak create a surreal and unforgettable landscape. The park offers a variety of trails suitable for all skill levels, allowing visitors to immerse themselves in the unique geology of the area. The Visitor and Nature Center further enriches the experience with informative exhibits that shed light on the park's fascinating history and geological processes.
Booking Platform:
Booking is not required for a visit to Garden of the Gods. You can simply drive to the park, park your vehicle, and immerse yourself in the breathtaking natural beauty that surrounds you. The park's accessibility and affordability make it a must-visit destination for all nature enthusiasts.
Mount Evans Scenic Byway: A High-Altitude Adventure
Part of the Front Range, Mount Evans Scenic Byway is located just over an hour's drive to the west of Denver, making it an easily accessible and thrilling day trip destination.
To embark on this high-altitude adventure, I headed west on I-70 W and then took CO-103 S, eventually reaching Mount Evans Road. The journey itself offers spectacular views, and the road to Mount Evans is an adventure in itself.
While there are no specific discounts for the scenic byway, it's worth noting that the America the Beautiful Pass, a federal recreation pass, covers the entrance fee to the Mount Evans Summit, providing a cost-effective option for frequent visitors to national parks and scenic areas.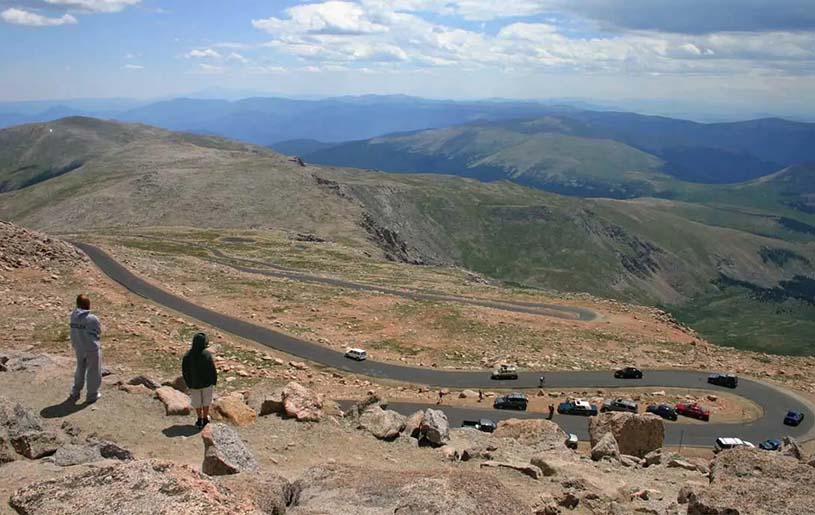 To access the summit of Mount Evans, there is an entrance fee of $15 per vehicle, which grants you the opportunity to experience one of the most breathtaking and iconic high-altitude drives in North America.
With a remarkable rating of 4.7 out of 5, Mount Evans Scenic Byway is highly recommended for those seeking a thrilling drive to the highest paved road in North America and a chance to be immersed in the beauty of alpine landscapes.
My journey on Mount Evans Scenic Byway was nothing short of exhilarating. The byway itself offers jaw-dropping views as it winds through stunning alpine landscapes. However, the final stretch to the summit, where you reach an awe-inspiring elevation of 14,130 feet, provides a surreal experience above the tree line. It's essential to be prepared for temperature drops and to savor breathtaking vistas that seem to stretch endlessly for miles. The entire adventure was a memorable and unique high-altitude experience.
Booking Platform:
No reservations are required to drive the Mount Evans Scenic Byway, but it's essential to be aware of seasonal closures, especially during the colder months when the road may not be accessible due to snow and adverse weather conditions.
Recommended Destinations:
Boulder, Colorado: A Quaint College Town
Situated a mere 30 minutes to the northwest of Denver, Boulder is a captivating college town that beckons visitors with its unique blend of natural beauty, cultural vibrancy, and outdoor adventures. The town boasts a charming downtown area, stunning hiking trails within Chautauqua Park, and the iconic Flatirons, which are rugged rock formations that have become synonymous with Boulder's identity.
Boulder's downtown area is brimming with character and offers a delightful shopping and dining experience. Stroll along the historic Pearl Street Mall, where you'll find a variety of shops, boutiques, cafes, and restaurants. The lively street is often filled with street performers and local artists, creating a vibrant and inviting atmosphere.
Boulder's proximity to the Rocky Mountains makes it a paradise for outdoor enthusiasts. Chautauqua Park is a must-visit destination, offering a network of picturesque trails that wind through stunning scenery. Hiking the Flatirons is a popular activity, and the trails cater to various skill levels, from leisurely walks to challenging climbs.
Boulder is known for its cultural richness, with a thriving arts scene, live music venues, and numerous festivals and events throughout the year. Don't miss an opportunity to explore local art galleries, attend a live performance, or immerse yourself in the town's vibrant creative spirit.
The Flatirons, Boulder's most iconic natural feature, are a series of distinct rock formations that rise dramatically above the city. They are a symbol of Boulder and a favorite spot for photographers and hikers alike. Whether you choose to admire them from a distance or conquer their trails, they are a sight to behold.
Red Rocks Park and Amphitheatre: Nature and Music Unite
Nestled just 30 minutes to the southwest of Denver, Red Rocks Park and Amphitheatre is a true Colorado gem renowned for its breathtaking natural amphitheater, striking red rock formations, and picturesque hiking trails. This iconic destination is where the harmony of nature and music creates an unforgettable experience.
The centerpiece of Red Rocks is its natural amphitheater, formed by two massive red sandstone monoliths that create impeccable acoustics. Attending a concert here is a bucket-list experience, as the venue has hosted legendary artists from all genres. The combination of live music, the backdrop of towering rocks, and the open Colorado sky creates an unparalleled atmosphere.
Beyond the music, Red Rocks offers a network of hiking trails that wind through the park's striking rock formations and pristine natural beauty. The Trading Post Trail is a popular choice, providing a relatively easy hike with stunning vistas of the surrounding landscape. For a more challenging trek, consider the Red Rocks Trail, which offers panoramic views of Denver.
The red sandstone formations that give the park its name are a marvel to behold. They provide a dramatic backdrop for both concerts and outdoor adventures. Sunrise and sunset at Red Rocks are particularly magical, with the rocks bathed in warm hues that photographers and nature enthusiasts will appreciate.
The Red Rocks Visitor Center and Museum offer insights into the park's geology, history, and musical legacy. It's a great place to learn more about the site's significance and the artists who have graced the stage.
Red Rocks is a favorite spot for fitness enthusiasts, and many locals incorporate the amphitheater's steep steps into their workouts. You can join them for a challenging workout session while enjoying the incredible views.
Estes Park: Gateway to the Rockies
Tucked at the picturesque entrance of Rocky Mountain National Park, Estes Park beckons visitors with its captivating downtown, opportunities for wildlife encounters, and a gateway to a myriad of outdoor adventures. This charming town serves as the perfect launching pad for exploring the natural wonders of the Rocky Mountains.
Estes Park's strategic location at the entrance of Rocky Mountain National Park makes it the quintessential basecamp for visitors looking to explore this pristine wilderness. The park is a sanctuary of natural beauty, offering opportunities for hiking, wildlife viewing, and breathtaking alpine landscapes.
Estes Park's downtown area is a postcard-worthy scene, with its rustic storefronts, boutiques, and inviting cafes. Stroll along the picturesque Riverwalk, where you can browse unique shops, sample local cuisine, and enjoy the mountain-town atmosphere.
Estes Park is known for its abundant wildlife, and it's not uncommon to encounter elk, deer, and other animals in and around town. For a closer look, consider visiting the Estes Park Visitor Center, which provides valuable information about wildlife viewing and park exploration.
The town and its surroundings offer a wide range of outdoor activities for adventurers of all levels. From hiking and mountain biking to fishing and rock climbing, Estes Park caters to a variety of interests. You can embark on scenic drives, explore pristine lakes, or even try your hand at fly-fishing in the sparkling rivers.
In addition to its natural beauty, Estes Park offers cultural attractions such as art galleries, historical sites, and events that showcase the town's vibrant community and heritage.
Golden, Colorado: Where History Meets Adventure
Located a mere 30 minutes to the west of Denver, Golden is a captivating historic town that seamlessly combines its charming downtown, the world-famous Coors Brewery, and its proximity to the stunning Clear Creek Canyon. This unique blend of history, craft beer, and outdoor adventure makes Golden a destination that offers something for everyone.
Golden's historic downtown area is a charming and inviting space where you can immerse yourself in the town's rich history. Stroll along Washington Avenue, lined with century-old buildings housing boutiques, art galleries, and restaurants. The quaint atmosphere is perfect for a leisurely afternoon of exploration.
As the home of Coors Brewery, Golden offers visitors a chance to explore one of the largest and most renowned breweries in the world. Brewery tours provide insight into the brewing process and a taste of the town's beer-making heritage. The adjacent Coors Brewery Welcome Center offers additional information and history.
Outdoor enthusiasts will find themselves in paradise with Clear Creek Canyon just a stone's throw away. The canyon offers opportunities for rock climbing, hiking, and world-class whitewater kayaking. The scenic Clear Creek Trail provides a picturesque path for walking, running, and cycling.
Golden boasts a range of cultural attractions, including museums that delve into the town's history, as well as art galleries and theaters. The Colorado School of Mines, a prestigious institution for engineering and applied sciences, is located here and contributes to the town's academic and innovative atmosphere.
The town's proximity to the Rocky Mountains ensures that outdoor adventures are always within reach. Whether you're interested in hiking, mountain biking, or simply enjoying a scenic drive in the nearby mountains, Golden offers a gateway to the great outdoors.
Tips and Suggestions:
Weather Preparedness: Denver's weather can be unpredictable, especially in the mountains. Pack layers, sunscreen, and be aware of altitude effects.
Seasonal Considerations: Some destinations, especially those at higher elevations, may have seasonal closures. Check ahead for road and park conditions.
Responsible Tourism: Respect nature and follow Leave No Trace principles. Be mindful of wildlife, stay on designated trails, and dispose of waste responsibly.
Flexible Itinerary: Weather conditions or unexpected closures may alter your plans. Have a flexible itinerary to adapt to changing circumstances.
Early Departures: For popular destinations, such as Rocky Mountain National Park, consider leaving early in the morning to avoid crowds and catch stunning sunrise views.
A road trip around Denver reveals a myriad of natural wonders and scenic landscapes. From the majestic peaks of Rocky Mountain National Park to the sculpted rocks of Garden of the Gods and the high-altitude adventure of Mount Evans, each destination offers a unique and unforgettable experience.