The enchantment of the South Pacific, with its crystalline waters, lush landscapes, and welcoming hospitality, is a siren call for travelers in search of an island paradise. Honiara, the capital city of the Solomon Islands, serves as a gateway to this tropical haven.
Unveiling Honiara's Resort Escapes
Heritage Park Hotel
Tropical Opulence: Situated along the waterfront, the Heritage Park Hotel embodies tropical opulence. Its expansive rooms and suites boast sweeping vistas of Iron Bottom Sound, providing a serene backdrop for your stay. The verdant gardens, swaying palm trees, and a sprawling pool create a sanctuary of serenity.
Culinary Delights: The hotel's dining options span the globe, from international cuisine to indigenous flavors. Don't miss the opportunity to savor the delectable seafood dishes, and ensure you experience dining by the water's edge as the sun paints the Pacific with its hues.
Reservation Platform: Securing your stay at the Heritage Park Hotel is effortlessly accomplished through their official website or renowned travel booking platforms.
Coral Sea Resort & Casino
Tropical Splendor: The Coral Sea Resort & Casino epitomizes luxury. With spacious rooms, private balconies, and oceanfront panoramas, it offers an oasis of relaxation. The resort's infinity pool provides uninterrupted views of the azure sea.
Entertainment Hub: Beyond relaxation, the resort features an exciting casino for those who fancy their luck. For those seeking entertainment, live music and cultural performances are regular highlights.
Reservation Platform: Reserving your accommodation at the Coral Sea Resort & Casino can be done via their official website or trusted travel booking platforms.
Solomon Kitano Mendana Hotel
Historic Elegance: The Solomon Kitano Mendana Hotel seamlessly blends historic elegance with contemporary comforts. Overlooking Iron Bottom Sound, its accommodations exude a harmonious blend of sophistication and warmth. The open-air restaurant presents an array of international and local dishes.
Exploration in Honiara: The hotel's central location makes it an ideal base for exploring Honiara's vibrant markets, cultural sites, and museums. Don't forget to take a leisurely stroll along the picturesque Mendana Avenue.
Reservation Platform: You can conveniently secure your stay at the Solomon Kitano Mendana Hotel through their official website or popular travel booking platforms.
Resort Adventures and Experiences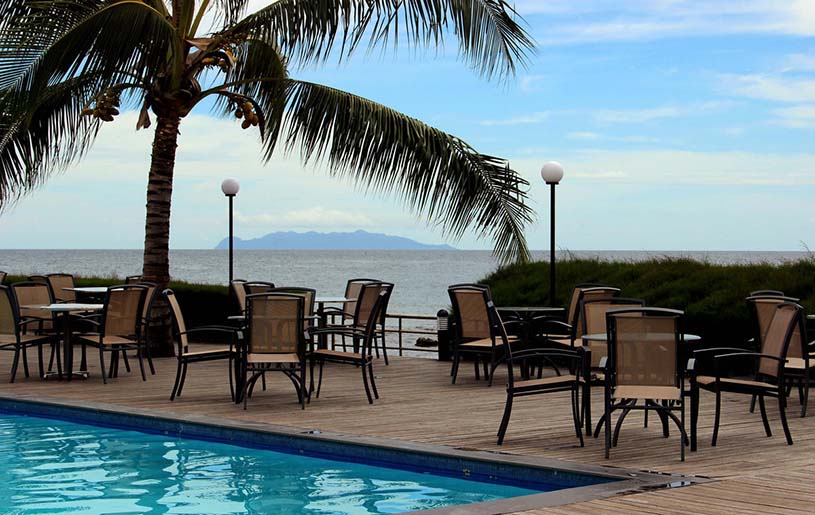 Aquatic Pursuits
Scuba Diving and Snorkeling: The Solomon Islands are celebrated for their pristine coral reefs. Resort guests have the privilege of embarking on scuba diving and snorkeling excursions to discover this subaquatic wonderland.
Island Hopping: Arrange enchanting island-hopping tours to uncover neighboring islets, each boasting its own unique allure and natural splendor.
Cultural Immersions
Cultural Showcases: Many resorts curate cultural showcases that allow guests to partake in traditional dances, melodies, and captivating folklore.
Local Market Excursions: Wander through bustling local markets to procure handicrafts, mementos, and engage in delightful interactions with the amicable locals.
Responsible Travel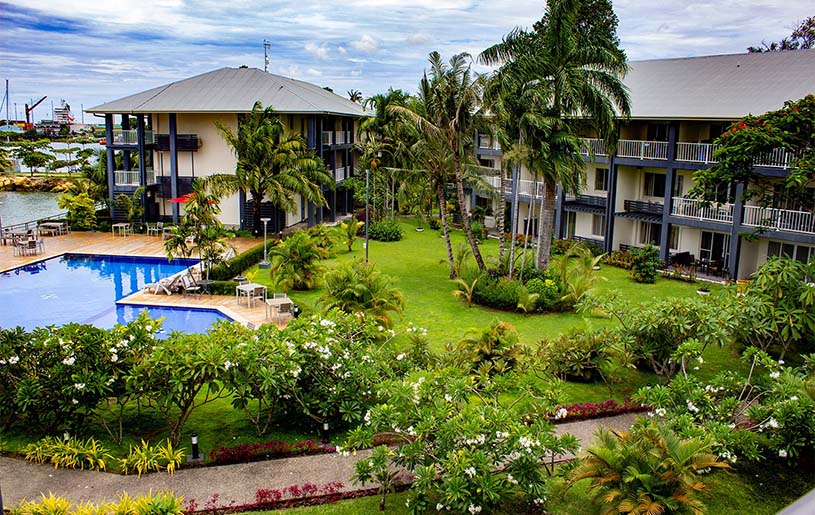 While basking in the beauty and warmth of Honiara's resorts, it is imperative to practice responsible travel. Extend respect to the local culture, be mindful of conserving water and energy, and lend support to eco-conscious initiatives.
Booking Guidelines
When booking your sojourn at Honiara resorts, consider the use of reputable travel booking platforms or direct reservations via the official websites of the respective hotels. Familiarize yourself with the resort's policies, including those pertaining to cancellations and refunds.
Honiara's resorts offer a portal to the mesmerizing beauty of the South Pacific. Whether you seek opulent tropical luxury, historic charm, or immersive cultural experiences, Honiara has a resort tailored to your desires. While you soak in the stunning vistas and the island's warm embrace, remember to embrace responsible travel practices.