Nestled along the serene banks of the majestic Danube River, Bratislava, the capital of Slovakia, emerges as a city steeped in history, culture, and contemporary vibrancy. We extend an invitation to explore the very heart of Slovakia, as we delve into the charming city of Bratislava.
Arrival and Mobility
By Air
M. R. Štefánik Airport (BTS) serves as Bratislava's primary gateway, offering convenient access to various European cities. Upon landing, multiple transportation options, including taxis, buses, and shuttle services, facilitate your journey into the city center.
Public Transport
Bratislava prides itself on an efficient public transportation system, encompassing trams, buses, and trolleybuses. An integrated ticketing system ensures hassle-free transfers between different modes of transport, simplifying city exploration.
On Foot and Two Wheels
The city's compact layout lends itself to leisurely exploration on foot. Alternatively, renting a bicycle opens up the opportunity to navigate Bratislava's bike-friendly routes and green spaces.
Must-Visit Landmarks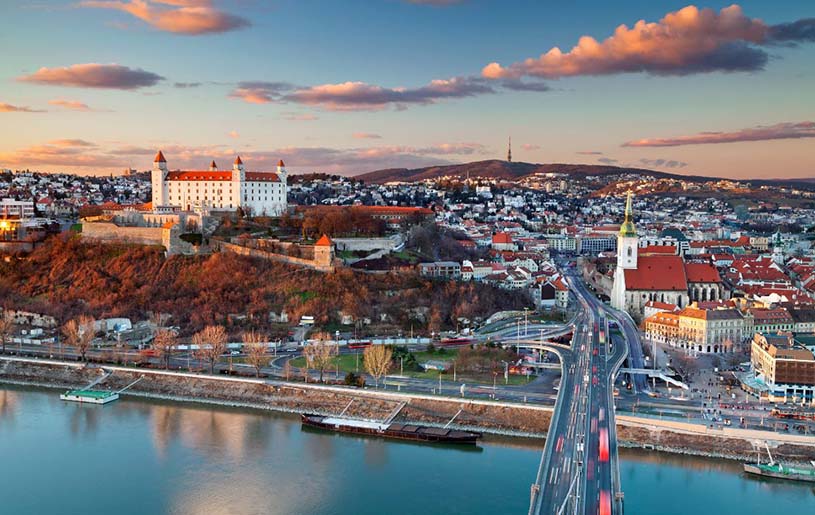 Bratislava Castle (Bratislavský hrad)
Crowning a hill, Bratislava Castle stands as an emblematic representation of the capital. Visitors are encouraged to delve into its historical interiors, explore the on-site museum, and savor panoramic vistas of Bratislava and its environs.
Old Town (Staré Mesto)
Meander through the captivating alleyways of the Old Town, where medieval and Baroque architecture coalesce in harmonious splendor. The Main Square, St. Martin's Cathedral, and the endearing "Man at Work" statue, known as Čumil, are among the treasures to be discovered.
Devin Castle (Hrad Devín)
Perched at the confluence of the Danube and Morava rivers, Devin Castle offers a glimpse into Slovakia's storied past. Traverse its ancient ruins, savor the scenic surroundings, and immerse yourself in the fortress's rich historical narrative.
Slavín War Memorial (Pamätník SNP)
Show your respects at the Slavín War Memorial, a poignant tribute to the heroes who liberated Bratislava during World War II. The site also offers an opportunity for contemplation, set against the backdrop of sweeping city views.
Slovak National Theatre (Slovenské národné divadlo)
For a dose of cultural enrichment, consider attending a performance at the Slovak National Theatre, an architectural masterpiece in its own right.
Gastronomy and Culinary Delights
Traditional Slovak Fare
Delight in the flavors of Slovakia at local eateries, sampling dishes like bryndzové halušky (potato dumplings with sheep cheese), kapustnica (sauerkraut soup), accompanied by a glass of Slovak wine or the renowned borovička (juniper brandy).
International Flavors
Bratislava's culinary landscape extends to international cuisine, with Italian, Asian, and Mediterranean restaurants aplenty, ensuring a diverse gastronomic adventure.
Retail Therapy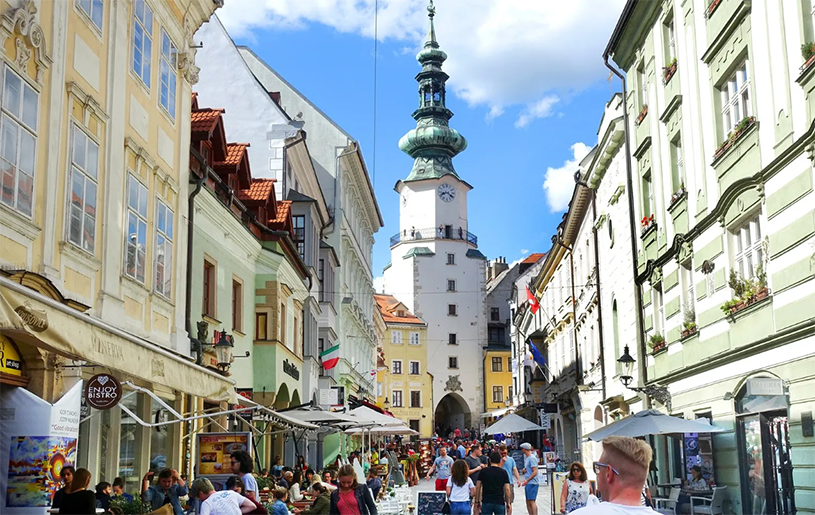 Bratislava's Marketplaces
Seek out local products and keepsakes at Bratislava's marketplaces, including the Old Market Hall and the festive Christmas Market, a seasonal delight. Handcrafted wares, traditional Slovak textiles, and unique gifts await discerning shoppers.
Shopper's Paradise
Amble along the bustling streets of Obchodná ulica and Laurinská ulica, where a medley of boutiques, fashion emporiums, and specialty stores proffer a plethora of retail options.
Etiquette and Safety
While Bratislava generally ranks as a safe destination for tourists, it is prudent to observe standard safety measures to safeguard your possessions. When interacting with locals, extend a polite greeting, whether in Slovak or English, such as "Dobrý deň" (Good day) or "Hello."
Bratislava, Slovakia's pulsating heart, weaves an enchanting tapestry of history, culture, and contemporary allure. Whether traversing the picturesque Old Town, savoring the flavors of traditional Slovak cuisine, or absorbing the awe-inspiring vistas from Bratislava Castle, your sojourn promises to etch indelible memories.